Yuantao face recognition how to attendance management
1.5. Attendance Management

Attendance management includes daily attendance management including the definition of attendance shifts, department scheduling, personnel re-signing cards, generation of personal attendance tables, and departmental attendance statistics tables.


1.5.1. Shift / Scheduling

Shift definition: set attendance shifts according to the working hours of the unit, support three more shifts a day, and set the start check-in time and end check-in time as well as the start check-out time and end check-out time for each shift respectively, not within the time range The identification records are not included in the attendance statistics.


Schedule: Set the attendance shift corresponding to each department. The personnel in the department will conduct attendance statistics based on the shifts set by the department.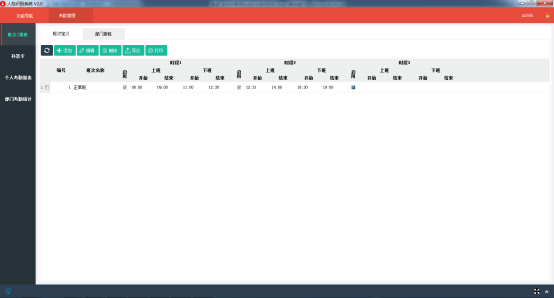 1.5.2. Re-issue card

In case of business trips, etc., the person who cannot sign in to the unit can make up for the sign-up through the sign-up card function. The sign-up record and the face recognition record are used as attendance statistics.

1.5.3. Personal Time Attendance Report

The personal time sheet includes the check-in schedule, the daily report of the working hours, the monthly report of the working hours, the monthly report of the working hours, and the monthly report of the attendance. Before querying the attendance table, data analysis is required. Data analysis is to analyze and check the personnel check-in data in the attendance time period set by the staff department shift to generate the attendance report.


Sign-in schedule: check the daily check-in time;


Attendance working hours daily report: query the attendance hours of a certain day;


Attendance Working Hours Monthly Report: Inquire monthly attendance hours of the current month by month;


Attendance time monthly report: query the daily check-in and check-out time of the month by month;


Attendance Monthly Report: Query the daily attendance of Dangpeng by month. If there is attendance, it will be displayed with √; if there is no attendance, it will be empty.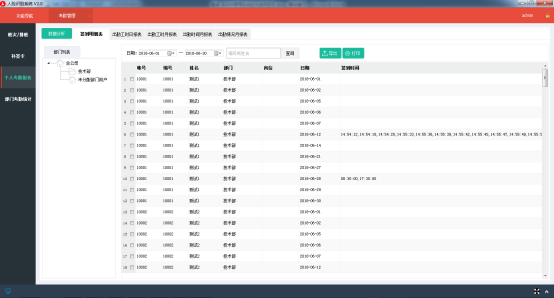 1.5.4. Department Attendance Statistics

Departmental attendance statistics include departmental attendance statistics, departmental attendance statistics daily reports, and departmental attendance statistics monthly reports;


Department attendance statistics: query the number of attendance in a department for a certain day;


Departmental Attendance Statistics Daily Report: Query the number of attendance and total working hours, total working days, per capita working hours, and per capita working days of a department in a certain day;


Department Attendance Statistics Monthly Report: Inquire monthly attendance statistics of each department in each month of the month;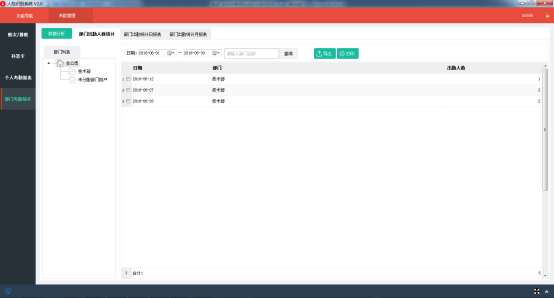 Aluminum Circle,Aluminum Circle Blanks,Aluminium Circle Price,Aluminum Circle Cookware

Jinan Xinhai Aluminum Industry Co., LTD. , http://www.jnxinhai-alu.com