Hong Joseph: Hong Kong Design Master
Reporter: Hello, Teacher Hong, is this your first visit to Changzhou?

Hong: Changzhou, this may be the second time, or it may be the third time. It seems that seven years ago, eight years ago, I had a customer, surnamed Tang. He was cooking in Changzhou. Eight years ago, he also asked me to do some dining design. He had a meeting with him twice. It is the third time. Changzhou was completely different from the present eight years ago and is now very developed.

Reporter: It is this time that I came to Changzhou and I feel that the change in Changzhou is still quite big.

Hong: It's big, big, and developed a lot. Changzhou eight years ago is totally different from today's.

Reporter: Then you came to Changzhou this time, and brought us space and lighting to the designers of Su Xichang. Does this theme have any special significance?

Hong: No. Because I am a very environmentally friendly person. I am a Chinese in the Philippines, I am studying in architecture and then working in Hong Kong. In Hong Kong, because the space is very small, like Tokyo, the same is true in Hong Kong. House prices are getting more expensive, very high, and the houses that are built are very small. . It has become a Hong Kong person, not only me, many designers, very sensitive to space, many cases are small spaces, all the way to do small space. When I was teaching, I only talked about design. Later, I felt that I had a special interest in small spaces. I became a small space design class. Other designers, lectures are big villas, luxury houses, and models. My class is not a small space, it seems to be in this small space (domain), this topic, maybe many people have such an idea, the small space must be looking for Teacher Hong. Lighting, I did not deliberately want to be a lighting designer. The reason for the lighting is because I am very interested in photography. Because photography, it depends on the light, it becomes, the concept of the lighting of my photography, put it into my interior design. All the way to design is to use lighting, I have no real learning lighting design, so many years of experience, is how to learn how to do a good job, year after year to become now, others feel that I am a professional lighting, I I dare not say, I can say that I am an artist of lighting, can not be said to be a professional of lighting.

Reporter: Then you have won the Oscar for design in the past nine years. What do you think is the significance of participating in the design competition for designers?

Hong: Andrew Martin, this competition, I participated in 2009, why did you participate? Because Andrew Martin is famous in the UK and in Europe, Andrew Martin started in 2009 and invited designers to participate in the competition. It happened that his agent was in Hong Kong, selling soft clothes and selling cloth. Then a manager of this fabric company went to our company and said that we have this Andrew Martin award in the UK. Do you want to participate? I said yes. Come and join us. Because this Andrew Martin is a very famous game, very good news said that you don't pay for the competition, I said yes, don't pay, it doesn't matter, I will take my case, work, and participate. After attending, after half a year, I also won the prize. Wow, I can't think of it. This is very international (competition). It is very happy to get the prize. I feel that the designer is participating in this award, and is trying to find out where his level is. Didn't get the award, it shouldn't matter. You didn't get the prize, you have to look at it, those who got the prize, what the work is like. Then you don't participate, you are not interested, how do people get the award, become this platform, Andrew Martin this platform, you participate, no prize, you will be unhappy, but will see what other people's works are I will slowly study other award-winning works, why others can win prizes, and where are their tastes, I am going to compare. I become this every year and every year, and how about studying other works every year, it is very simple to improve your work, just like you cook, it's not good, you have to This restaurant's food, this is delicious, how to do it, study it. Do we work, show it year after year, don't look outside and don't know what the world is like,

Reporter: Then we say that traits and creativity are the soul of a designer. How should you as a designer look for your own traits?

Hong: That's creative. I feel that creativity can be divided into two parts. In terms of design, creativity means that this style is very creative. But the idea of ​​my design, I feel, the design still has to come from the practical function, simply say, a small room, you open a meeting with Party A, fifty square meters, thirty square meters, no matter how many square meters, to and When you open a meeting, you have to understand his habits. How do he use this house, how many people come to live in this house, what his study is like, what kind of houseware is it, then if you have such information, You have to start on this plane, how to arrange this space, then this is functional, the function must be done. The first is to satisfy the function. The second idea is to say that with these functions, what idea do we use to express this functional design, that is to say, using European style, Chinese style, simple European, medium, etc. Or some weird design, but this strange appearance has good features, two ideas, two aspects of creativity. Functional creativity, expression of creativity.

Reporter: Then we have a bottleneck in doing anything, then how do you break through this bottleneck?

Hong: I believe that many designers, designers, they want to be creative, do design, they want to have a lot of time, because the design can not be said, it seems that when you turn on the lights, work and work, this is not good, at this time at least Inspiration, but inspiration, this inspiration is not every day, I don't know when it will come. For example, Party A gives the designer a very anxious time. In such a short period of time, the designer has no time to relax, and the inspiration will definitely not come out. Sometimes, there is no way to make a design. You can't think of a plan, you are tired, your body is tired, your brain is very tired, then ignore him, relax and relax. Maybe the next day, inspiration comes. Sometimes, I said that I do design, I don't dare to say inspiration, many things, design has no concept, after an hour, or when I sleep, when I sleep, I suddenly think, can do this, then I feel that the design may It's not my design, it may be heaven, I feel very strange. Maybe it is heaven saying, how do you not use this idea? That is to say, I do a lot of things, it seems that I am not designing, it is someone who is joking with me, why are you not? Do this.

Reporter: Then you think that as a designer, what must not be discarded?

Hong: As a designer, you must have a big hobby for this industry. If you have a big hobby, you will definitely stick to it. If you are tired, you will do it well. When a designer makes a design, he should not be satisfied very quickly. Well done, he is very satisfied, but also come back to see if there is room for this design to be better and modify it. Wow, ok, but look again. That is to say, design, for the first time, you do 50%, the second revision, sixty, or not satisfied, or not satisfied. But when you feel satisfied, you have another day, look again, there is no room. My process is like this. If you do it well, it seems to be very satisfying. I will see it again. There is still room to change. I want to change it all the way. I hope it will be changed to 100%. It may not be possible. Maybe it is percent. Ninety, ninety-five percent, but ninety-five or ninety, the time is almost up, to start the renovation, then there is no way. It is not easy to be a designer. First, things must be done well. Don't think about the high design cost. I will do it. If it is not high, don't do it. Don't do this. Be sure to do a good design. Good design, Party A is very happy, he is very happy with you, I think this happy is more happy than the money you earn.

Reporter: Do you think there is a gap between our domestic designers and foreign designers?

Hong: I believe that there are gaps in designers all over the world. Some are for making money, some are really interested in this design industry. I believe that there are such people in China, there are such people in Hong Kong, and there are such people abroad. The designers who jumped out, I believe that they are hobbies in this industry, making money is the second, many designers succeed, may make a lot of money, but they may not have those designers love design. Many successful designers do not mean that they make a lot of money. Many successful designers are good at his work, and the customers are very happy, but the designer does not have to make much money. But some designers make a lot of money, the company is big and very successful, but I feel that they are not successful because they are not happy. I am happy, the guests are happy, why are they just happy? Because you make a lot of money, you are very happy, the guests are not open, the surface is you are very happy, in fact, in your brain, you are not happy, because you know, you earn this Money, customers don't open.

Reporter: That tomorrow's lectures, there will be many Suzhou, Wuxi, Changzhou and even the entire Yangtze River Delta designers come to listen to your lectures, do you have anything to say to them?

Hong: I love their design! I love hobbies. If they don't like this design, they won't succeed, because many designers feel that this design industry is so good to make money, don't like this attitude, because he must like this design. Second, even if the design is not good, I hope they can serve this guest well, then it can be, the design is not necessarily excellent, but they want to do the design, but they also have the attitude of serving the customer, they will also succeed. Many successful designers, the design is not necessarily very good, they may be particularly good for the customer's service, the guests will say that this designer is very good, very acquainted.

The article is from the Internet.
Pre-insulation steel pipe



All kinds of medium thermal insulation and cold insulation engineering which the conveying temperature is in the range of -50℃~150℃, it is widely used in thermal insulation and cold insulation engineering of urban collective heating, warm room, refrigeratory, coal mine, petroleum, port and chemical etc industry.

Advantage

The thermal insulation pipe not only has the advanced technology and practical performance that the traditional trench and overhead laying pipeline cannot match, but also has the remarkable social and economic benefits, and is also a powerful measure of heat supply energy conservation.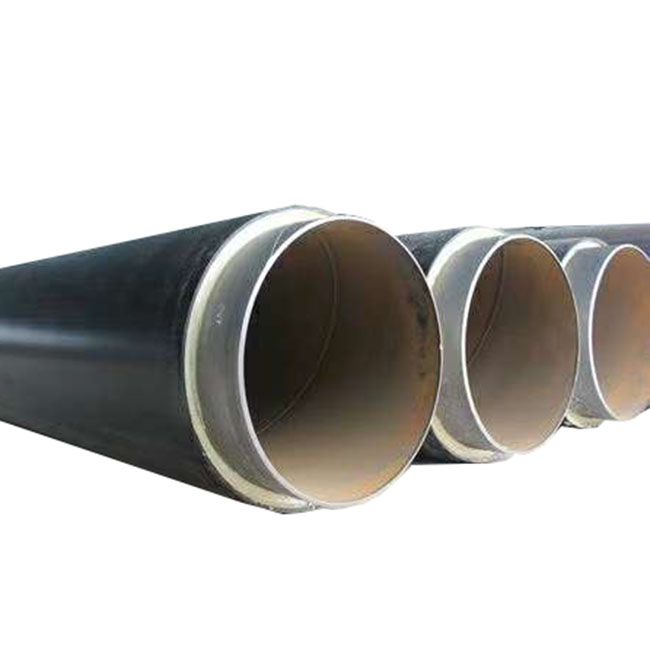 advantage

1. Strong corrosion resistance and waterproof ability, low comprehensive cost

2.Low heat loss, saving energy.The heat loss is only 25% of the traditional pipe material

3 long service life

4. Less land area and fast construction are conducive to environmental protection










Packaging Details

Plastic caps on both ends, Steel bundle, Woven bag or acc. to customers' request.

Delivery Time

15 days after receiving deposit

If you have any questions, please contact with us directly and welcome you can visit our Factory.







Pre Insulated Pipe,Pre-Insulated Steel Pipe,Steel Jacket Insulating Steel Pipe,Steam Insulation Steel Pipe

HEBEI CHENGYUAN PIPE INDUSTRY GROUP CO.,LTD , http://www.hbcytube.com