Duplex 2507 Stainless Steel Plate
Price Term: L/C T/T (30% Deposit)

Packing: Standard Sea-Worthy Packing

Payment Term: 30%Tt Advance + 70% Balance

Material: 200 Series/300 Series/400series

Trademark: SuRui

Transport Package: Normal Sea Package

Specification: according to customers′requirement

Origin: Tisco Jisco Baosteel Zpss Lisco

HS Code: 72192300

1.

Alloy 2507 (UNS S32750) is a super duplex stainless steel with 25% chromium, 4% molybdenum, and 7% nickel designed for demanding applications which require exceptional strength and corrosion resistance, such as chemical process, petrochemical, and seawater equipment. The steel has excellent resistance to chloride stress corrosion cracking, high thermal conductivity, and a low coefficient of thermal expansion. The high chromium, molybdenum, and nitrogen levels provide excellent resistance to pitting, crevice, and general corrosion.2.

Applications

·         Oil and gas industry equipment
·         Offshore platforms, heat exchangers, process and service water systems, fire-fighting systems, injection and ballast water systems
·         Chemical process industries, heat exchangers, vessels, and piping
·         Desalination plants, high pressure RO-plant and seawater piping
·         Mechanical and structural components, high strength, corrosion-resistant parts
·         Power industry FGD systems, utility and industrial scrubber systems, absorber towers, ducting, and piping

3.
Corrosion Resistance
General Corrosion
The high chromium and molybdenum content of 2507 makes it extremely resistant to uniform corrosion by organic acids like formic and acetic acid. 2507 also provides excellent resistance to inorganic acids, especially those containing chlorides.
In dilute sulfuric acid contaminated with chloride ions, 2507 has better corrosion resistance than 904L, which is a highly alloyed austenitic steel grade specially designed to resist pure sulfuric acid.
Stainless steel of type 316L (2.5%Mo) cannot be used in hydrochloric acid due to the risk of localized and uniform corrosion. However, 2507 can be used in dilute hydrochloric acid. Pitting need not be a risk in the zone below the borderline in this figure, but crevices must be avoided.

 

Isocorrosion curves, 0.1 mm/year, in sulfuric acid with an addition of 2000 ppm chloride ions

 

Isocorrosion curves, 0.1 mm/year, in hydrochloric acid. Broken line curve represents the boiling point

 

Critical Pitting Temperature (CPT) range for various alloys in 1M NACl


Critical Crevice Corrosion Temperature (CCT)for various alloys in 10% FeCl3
Intergranural Corrosion
2507's low carbon content greatly lowers the risk of carbide precipitation at the grain boundaries during heat treatment; therefore, the alloy is highly resistant to carbide-related intergranular corrosion.
Stress Corrosion Cracking
The duplex structure of 2507 provides excellent resistance to chloride stress corrosion cracking (SCC). Because of its higher alloy content, 2507 is superior to 2205 in corrosion resistance and strength. 2507 is especially useful in offshore oil and gas applications and in wells with either naturally high brine levels or where brine has been injected to enhance recovery.
Pitting Corrosion
Different testing methods can be used to establish the pitting resistance of steels in chloride-containing solutions. The data above were measured by an electrochemical technique based on ASTM G 61. The critical pitting temperatures (CPT) of several high-performance steels in a 1M sodium chloride solution were determined. The results illustrate the excellent resistance of 2507 to pitting corrosion. The normal data spread for each grade is indicated by the dark gray portion of the bar.
Crevice Corrosion
The presence of crevices, almost unavoidable in practical constructions and operations, makes stainless steels more susceptable to corrosion in chloride enviroments. 2507 is highly resistant to crevice corrosion. The critical crevice corrosion temperatures of 2507 and several other high-performance stainless steels are shown above.
Chemical Analysis
Typical Values (Weight %)
Carbon
Chromium
Nickel
Molybdenum
Nitrogen
0.020
25
7
4.0
0.27
S=0.001
PREN = [Cr%] = 3.3 [Mo%] = 16 [N %] ≥ 40
Mechanical Properties
Mechanical and Physical Properties
2507 combines high tensile and impact strength with a low coefficient of thermal expansion and high thermal conductivity. These properties are suitable for many structural and mechanical components. The low, ambient, and elevated temperature mechanical properties of 2507 sheet and plate are shown below. All of the test data shown are for samples in the annealed and quenched condition.
2507 is not recommended for applications which require long exposures to temperatures in excess of 570°F because of the increased risk of a reduction in toughness. The data listed here are typical for wrought products and should not be regarded as a maximum or minimum value unless specifically stated.
Mechanical Properties
| | |
| --- | --- |
| Â  | Â  |
| 0.2% Offset Yield Strength, ksi | 80 min. |
| Ultimate Tensile Strength, ksi | 116 min. |
| 1% Offset Yield Strength, ksi | 91 min. |
| Elongation in 2 inches, % | 15 min. |
| Hardness, Rockwell C | 32 max |
| Impact Energy, ft-lbs | 74 min. |
Low Temperature Impact Properties
| | | | | |
| --- | --- | --- | --- | --- |
| Temperature °F | RT | 32 | -4 | -40 |
| Ft-lbs | 162 | 162 | 155 | 140 |
| Temperature °F | -76 | -112 | -148 | -320 |
| Ft-lbs | 110 | 44 | 30 | 7 |
Elevated Temperature Tensile Properties
| | | | | | |
| --- | --- | --- | --- | --- | --- |
| Temperature °F | 68 | 212 | 302 | 392 | 482 |
| 0.2% Offset Yield Strength, ksi | 80 | 65 | 61 | 58 | 55 |
| Ultimate Tensile Strength, ksi | 116 | 101 | 98 | 95 | 94 |
Values obtained for hot rolled plates (th ≤ 2"). Alloy 2304 must not be used for a long time at temperatures higher than 300°C (572°F), where precipitation hardening phenomenon occurs.
Toughness Values (KCV Minimum Values)
| | | | | |
| --- | --- | --- | --- | --- |
| Temp. | -50°C | +20°C | -60°F | +70°F |
| Single | 75 J/cm_ | 90 J/cm_ | 54 ft. lbs | 65 ft. lbs |
| Average (5) | 90 J/cm_ | 150 J/cm | 65 ft. lbs | 87 ft. lbs |
Hardness (Typical Values)
| | | | |
| --- | --- | --- | --- |
| Average (5) | HV10Â 180-230 | HB : 180-230 | HRC _ 20 |
Physical Properties
Density : 7,800 kg/m3Â - 0.28 lb/in3
Interval
Temper
°C
Thermal
expansion
ax10M-bK-1
°C

 
Resistivity

(μ_ cm)
Thermal
conductivity
(W.m-1.K-1)
Specific
heat
(J.kg-1.K-1
Young
modulus
E
(GPa)
Shear
modulus
G
(GPa)
20-100
13
20
80
17
450
200
75
20-100
13
100
92
18
500
190
73
20-200
13.5
200
100
19
530
180
70
20-300
14
300
105
20
560
170
67
Processing
Hot Forming
2507 should be hot worked between 1875Â and 2250. This should be followed by a solution anneal at 1925Â minimum and a rapid air or water quench.
Cold Forming
Most of the common stainless steel forming methods can be used for cold working 2507. The alloy has a higher yield strength and lower ductility than the austenitic steels so fabricators may find that higher forming forces, increased radius of bending, and increased allowance for springback are necessary. Deep drawing, stretch forming, and similar processes are more difficult to perform on 2507 than on an austenitic stainless steel. When forming requires more than 10% cold deformation, a solution anneal and quench are recommended.
Heat Treatment
2507 should be solution annealed and quenched after either hot or cold forming. Solution annealing should be done at a minimum of 1925. Annealing should be followed immediately by a rapid air or water quench. To obtain maximum corrosion resistance, heat treated products should be pickled and rinsed.
Welding
2507 possesses good weldability and can be joined to itself or other materials by shielded metal arc welding (SMAW), gas tungsten arc welding (GTAW), plasma arc welding (PAW), flux cored wire (FCW), or submerged arc welding (SAW). 2507/P100 filler metal is suggested when welding 2507 because it will produce the appropriate duplex weld structure.
Preheating of 2507 is not necessary except to prevent condensation on cold metal. The interpass weld temperature should not exceed 300°F or the weld integrity can be adversely affected. The root should be shielded with argon or 90% N2/10% H2purging gas for maximum corrosion resistance. The latter provides better corrosion resistance.
If welding is to be done on only one surface and post-weld cleaning is not possible, GTAW is suggested for root passes. GTAW or PAW should not be done without a filler metal unless post-weld cleanup is possible. A heat input of 5-38 kJ/in. should be used for SMAW or GTAW. A heat input of about 50kJ/in. can be used for SAW.

 
| | |
| --- | --- |
| Commodity | duplex 2507 stainless steel plate/sheet |
| Key word | duplex stainless steel plate |
| Grade | 201,202,304,304L,316,316L,310S,309S,321,301,310,410,420,430,904L |
| Brand | TISCO ,BAOSTEEL,POSCO,JISCO,LISCO |
| Certification | SGS,BV,IQI,TUV,ISO,etc |
| Thickness | 0.2mm-150mm |
| Width | 1000,1219,1250,1500mm, or as your requirements |
| Length | 2000,2438,2500,3000,6000mm, or as your requirements |
| Surface | No.1, 2B, BA, 8K Mirror, Hairline,satin, Embossed,brush,No.4,HL,matt,pvc film,laser film. |
| Standard | ASTM,AISI,SUS,JIS,EN,DIN,GB, ASME,etc |
| Delivery time | 7-10 days after confirming the order |
| MOQ | 3Â Ton |
| Advantages | Showing the splendor of your quality, wearresistant as well , strong corrosion resistance and decorative effect, durable and beautiful in good taste. |
pictures of  stainless steel plate

Chemical Composition  stainless steel plate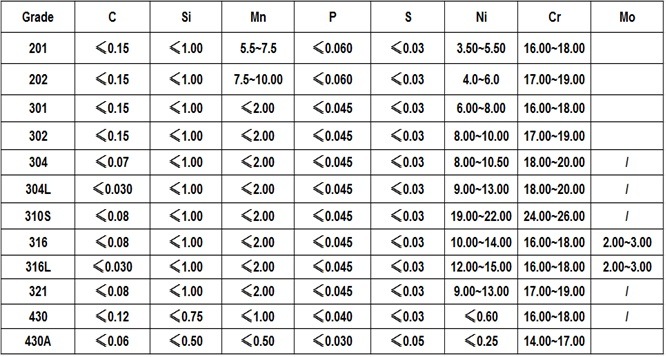 Surface Finish  stainless steel plate
| | |
| --- | --- |
| Surface Finish | Definition and Application |
| No.1 | The surface is finished by heat treatment and pickling or processes corresponding theretoafter hot rolling |
| 2D | The finishes after cold rolling, by heat treatment, Â pickling or other equivalenttreatment |
| 2B | The finish after cold rolling, by heat treatment, pickling or other equivalent treatment and lastly by cold rolling to give an appropriate luster |
| BA | Cold rolled, bright annealed and skin-passed, the product have excellent brightness and good reflexivity like mirror |
| NO.3 | Polished with abrasive belt of grit#100~#200,have better brightness with discontinuous coarse stria |
| NO.4 | Polished with abrasive belt of grit#150~#180,have better brightness with discontinuous coarse stria |
| HL | Polished with abrasive belt of grit#150~#320 on the NO.4 finish and has continuous streaks |
| 8K | The product have excellent brightness and prefect reflexivity can be the mirror |
Production Flow about stainless steel plate

Raw materials are sending to hot rolling units for rolling into different sizes
Hot rolled material is annealing in cold; rolled annealing furnace and pickling in acid.
All mill rolls are grinded on precision grinding machine with proper chamfering after first shiftoperation.
All sheets are pickled in different tanks and dried on brush roll machine before dispatched.
These sheets are again annealing and are sent to straighten machine for straightening.
Inspections are done at various stages. Keep proper control overall internal process via rolling,annealin and pickling by our experienced staff.

packaging of stainless steel plate

We wrap the stainless steel products with anti-rust paper and steel rings to prevent damage. Identification labels are tagged accordingto standard specification or customer's instructions. Special packing is available as per customer's requirement.

 Product Application of stainless steel plate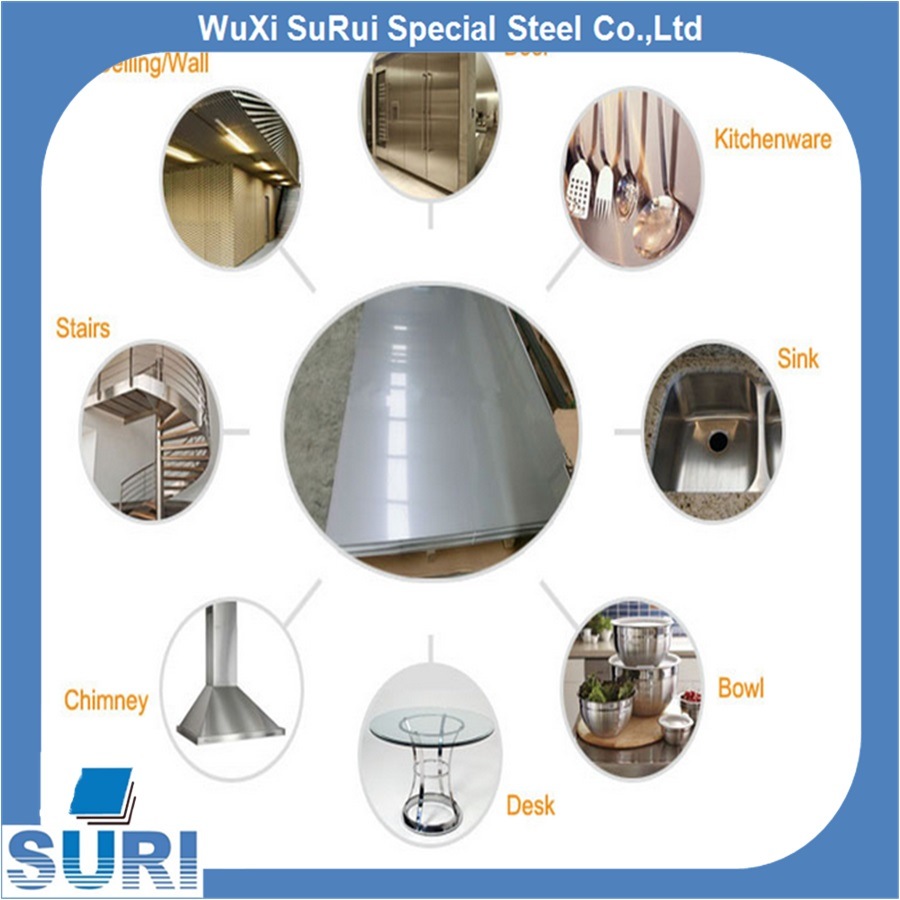 Company Introduction
Our company is based in Wuxi, Jiangsu province. We are SGS certificated. 

We have more than eight years of experiences in producing high quality stainless steel products, 
such as: 201, 301, 304, 321, 316, 316L, 309S and 310S Stainless steel sheets, 201, 301, 304, 321, 316, 316L, 309S and 310S Stainless steel pipes, and 1Cr17Ni2, 0Cr13, 1Cr13, 2Cr13, 3Cr13, 4Cr13, 201, 301, 304, 321, 316, 316L, 309S and 310S Stainless steel rods, etc.

Specializing in supplying stainless steel sheet, stainless steel coil, stainless steel plate, steel plate, seamless steel tube etc. We can supply high quality products, good service and competitive price. We have been devoted to stainless steel production such as stainless steel plate/sheet, stainless steel coil&stainless steel bar, and processing of stainless steel, special steel and high grade carbon steel.






 

FAQ
Q1:How many coutries you already exported ?
A1:Exported to more than 50 countries mainly from America, Russia, UK, Kuwait, Egypt, Iran,
      Turkey, Jordan, etc.
Q2:How can I get some samples?
A2:Small samples in store and can provide the samples for free. Catalgue is available, most
      patterns we have ready samples in stock. Customized samples will take about 5-7days.
Q3:What is the MOQ?
A3:Stainless steel coils 3 tons, pattern sheets 50pcs.
Q4:What is the delivery ?
A4:Sample order's delivery time is 5- 7 days. Container orders are about 15-20 days.
Q5:How does your company do regarding quality control?
A5:BV and SGS certificates, production process followed the ISO 9000 system.
Q6:How To Protect The Sheets?
A6:Two white and black PE layers to cover the surface, each layer is 70 micro (Total
      140 micro) laser PVC is also workable.( Novacel or poli-film brand )
Q7:What is the application about your Products?
A7:1.elevator door/cabin or and escalator's side-wall.
      2.Wall cladding inside or outside meeting room/ restaurant.
      3.Facade when cladding over something, like columns in the lobby.
      4.Ceiling in the supermarket. 5.Decorative draws in some entertainment places.
Q8:How long Can You Guarantee for This Product/Finish?
A8:Color guarantee for more than 10 years. Original materials quality certificate can
       be provided.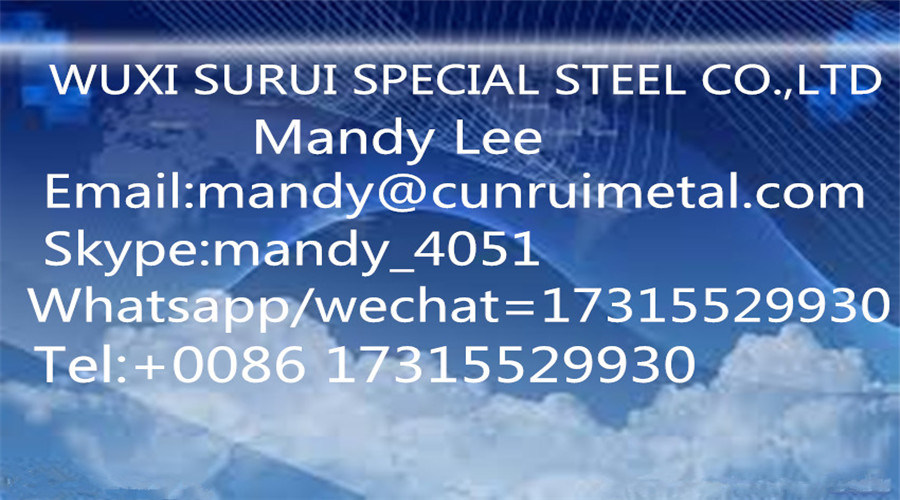 We Provide Unique Key Charting System for keyed differently, supplied with 2 keys per lock. 20000 pcs individual padlocks available. OEM Manufacturing service is also available.

KEY CHARTING SYSTEM:

1. Keyed Differ System: Each padlock is keyed differently, supplied with 2 keys per lock. 20000pcs individual padlocks available.

2. Keyed Alike System: Each padlock is keyed the same. 1 key will open all padlocks in each group.

3. Differ & Master Key System: Each padlock is keyed differently, supplied with 2 keys per lock. A master key will override and open any of these padlocks.

Alike & Master Key System: Each padlock is keyed the same in one group. A master key will override and open all groups of Alike keyed.

MATERIAL: rugged reinforced nylon

DESCRIPTION:

a) Widely used in chemical, electrical, automobile industry, etc.

b) superior temperature, chemical and corrosion resistance

c) With rewritable warning signs

d) Key Retaining Feature (When the shackle is open, the key can not be removed)

e) High Security 10 pin cylinder lock, upto 100000pcs different locking mechanisms.

f) Laser printing and logo engraving available if required.

g) Shackle Length: 38mm

h) All different colors available.
Nylon

Nylon Shackle Padlock, Shackle Padlock, Lockout Padlock, Dielectric Padlock, Nylon Safety Padlock

WENZHOU BOSHI SAFETY PRODUCTS CO.,LTD , http://www.osha-lock.com