Bar Shape Y25 Ferrite Magnet
Model NO.: Y8T-Y35; C1-C11

Tensile Strength: Tensile Strength

Material: Ferrite Magnets

Magnetism Direction: Thickness

Surface Treatment: Smooth

Processing: Sintered Motor Magnet Permanent

Color: as Per Customer′s Request

Delivery Time: Within 3-30 Working Days

Max Temp: 80 to 230 Degree

Tolerance: Tolerancet+/-0.1mm

Grade: Y8t-Y35;C1-C11

Trademark: GXL

Transport Package: Small Packing Box: 12X10X5cm or as Demands

Specification: as demands

Origin: China

HS Code: 8501110

Bar Shape Y25 Ferrite Magnet

We have the fixed Long-term cooperation factory. Which is mainly produce kinds magnet. We have invested much funds for some equipment, for example injection molding machine.

And Our technology is introduced from Japan and Germany. The major technical leader in our factory is from Japan and has been studying this field for over 15 years.   Wish our best technology can solve your production problems.

1. Product Details

Ferrite permanent magnetic material:ferrite material consists BaFe12o19and SrFe12O19.Its manufacturing process is similar to that of Ceramics,ItsPHysical property is hard,brittle.DIspite it only has a limited (BH)max power,It has the advantage of good heat resistance and low cost,So it has become the most commonly used permanent magnetic material.

 
| | |
| --- | --- |
| Product Name | Â Bar shape Y25 Ferrite Magnet |
| Material | ferrite magnets |
| Shape and Size | Customized |
| Certification | ISO9001,ISO14001,TS16949,ROHS,ROSE |
| Grade | Y10T-Y35 |
| Tolerance | +/-0.1mm |
| Max Temp | 80°C to 230°C |
| Production Leading time | Usually 15-20 days;fastest time can be within 7 days |
| Coating | Ni, Zn, gold, copper, epoxy, chemical, parylene and so on |
| Features &Advantage | the most powerful permanent magnet, offers a great return for cost & performance, have the highest field/surface strength(Br), high coercively(Hc), can be easily formed into various shapes and sizes. Be reactive with moisture and oxygen,usualy supplied by plating (Nickel, Zinc, Passivatation, Epoxy etc.). |
2. Ferrite  Magnetic Parameter table

 

Chinese SJ/T0410-2000 Permanent Ferrite Manget Standard          

        
Grade
BR
HcB
HcJ
(BH)max
mT
KG
KA/m
Koe
KA/m
Koe
Kj/m
MGOe
Y8T
200~235
2.0~2.35
125~160
1.57~2.01
210~280
2.64~3.52
6.5~9.5
0.8~1.2
Y20
320~380
3.2~3.8
135~190
1.70~2.38
140~195
1.76~2.45
18.0~22.0
2.3~2.8
Y22H
310~360
3.1~3.6
220~250
2.77~3.14
280~320
3.52~4.02
20.0~24.0
2.5~3.0
Y23
320~370
3.2~3.7
170~190
2.14~2.38
190~230
2.39~2.89
20.0~25.5
2.5~3.2
Y25
360~400
3.6~4.0
135~170
1.70~2.14
140~200
1.76~2.51
22.5~28.0
2.8~3.5
Y26H
360~390
3.6~3.9
220~250
2.77~3.14
225~255
2.83~3.21
23.0~28.0
2.9~3.5
Y27H
370~400
3.7~4.0
205~250
2.58~3.14
210~255
2.64~3.21
25.0~29.0
3.1~3.7
Y28
370~400
3.7~4.0
175~2102
2.20~2.64
180~220
2.26~2.77
26.0~30.0
3.3~3.8
Y30H-1
380~400
3.8~4.0
230~275
2.89~3.46
235~290
2.95~3.65
27.0~32.0
3.4~4.1
Y30H-2
395~415
3.95~4.15
275~300
3.46~3.77
310~335
3.90~4.21
28.5~32.5
3.5~4.0
Y32
400~420
4.0~4.2
160~190
2.01~2.38
165~195
2.07~2.45
30.0~33.5
3.8~4.2
Y33
410~430
4.1~4.3
220~250
2.77~3.14
225~255
2.83~3.21
31.5~35.0
4.0~4.4
Y35
430~450
4.3~4.5
215~239
2.70~3.00
217~241
2.73~3.03
33.1~33.2
4.16~4.17
  In MMPA(0100-87) standard
Grade
BR
HcB
HcJ
(BH)max
mT
KG
KA/m
Koe
KA/m
Koe
Kj/m
MGOe
C1
230
2.3
148
1.84
258
3.5
8.36
1.05
C5
380
3.8
191
2.4
199
2.5
27
3.4
C7
340
3.4
258
3.23
318
4
21.9
2.75
C8A
385
3.85
235
2.95
242
3.05
27.8
3.5
C8B
420
4.2
232
2.913
236
2.96
32.8
4.12
C9
380
3.8
280
3.516
320
4.01
26.4
3.32
C10
400
4
288
3.617
280
3.51
30.4
3.82
C11
430
4.3
200
2.512
204
2.56
34.4
4.32
3. Ferrite magnet Show

Disc, Cylinder, Block, Ring, Countersunk, Segment, Trapezoid, Irregular shapes and more. 

Customized shape

 

are available.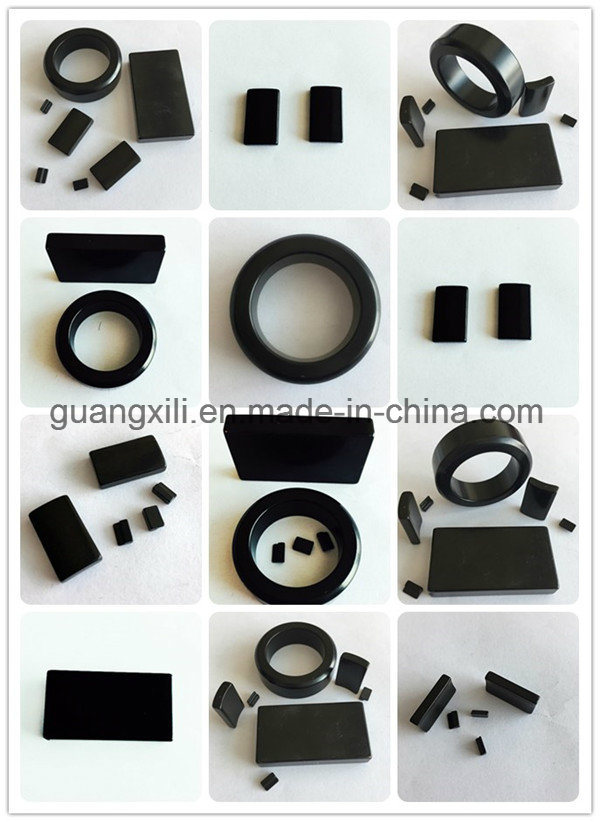 4.More product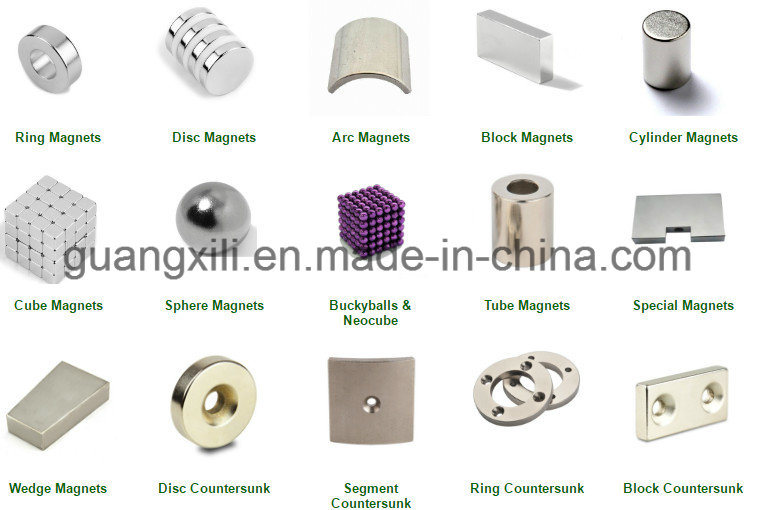 5.Production Process

Raw materials mixing→Smelting →Powder Production→Molding→Sintering→Magnetic property testing→Fine machinery processing→Surface Coating→Finished Inspection→Magnetization and packing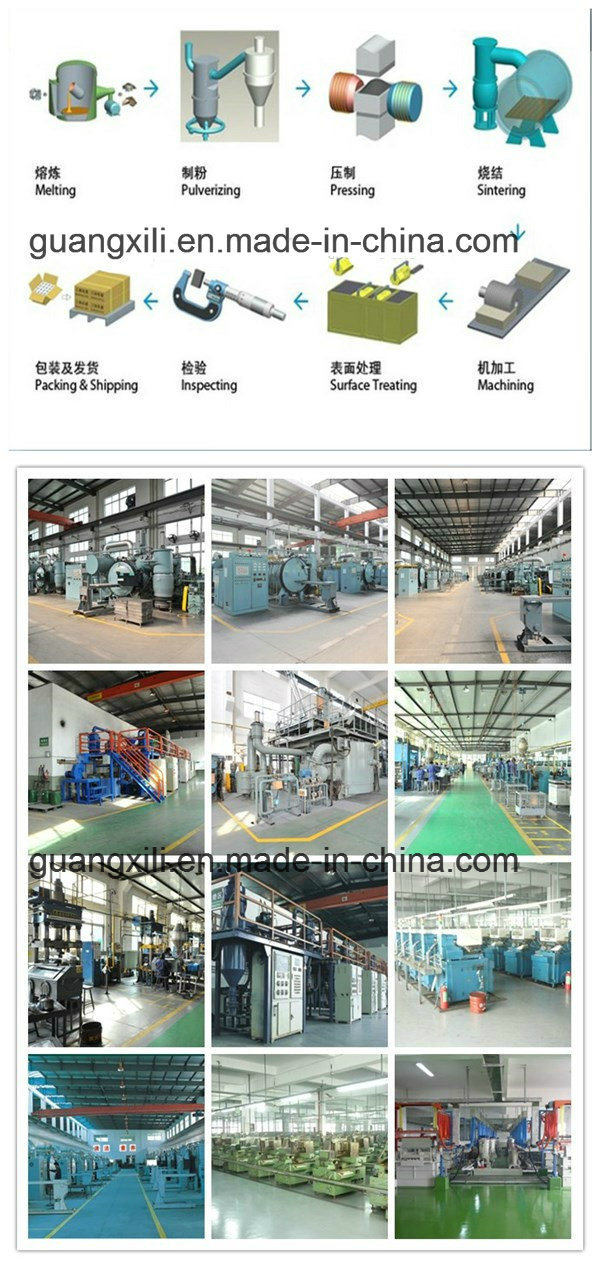 6. Application

Ferrite magnet is one of the most widely used magnets, due to its low cost, it is widely used in DC motor, rotary motor, wiper motor, start, fuel pump, seat motor, etc.), magnetic separator, speakers, headphones,whiteboard magnet, microwave ovens and other field.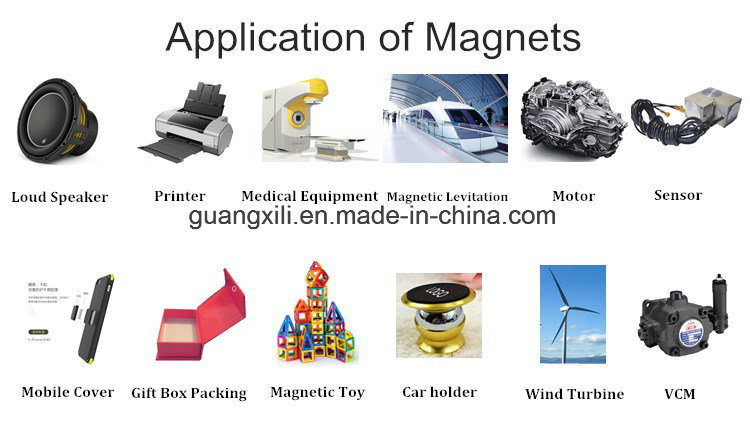 7.Package,Payment and Shipping

a: the weight is under 40Kg,we will choose FedEx,DHL or UPS with shielding box for you;

b: the weight is over 100Kg,we will choose shipping for you;

c: the weight is between 40Kg-100Kg per you request;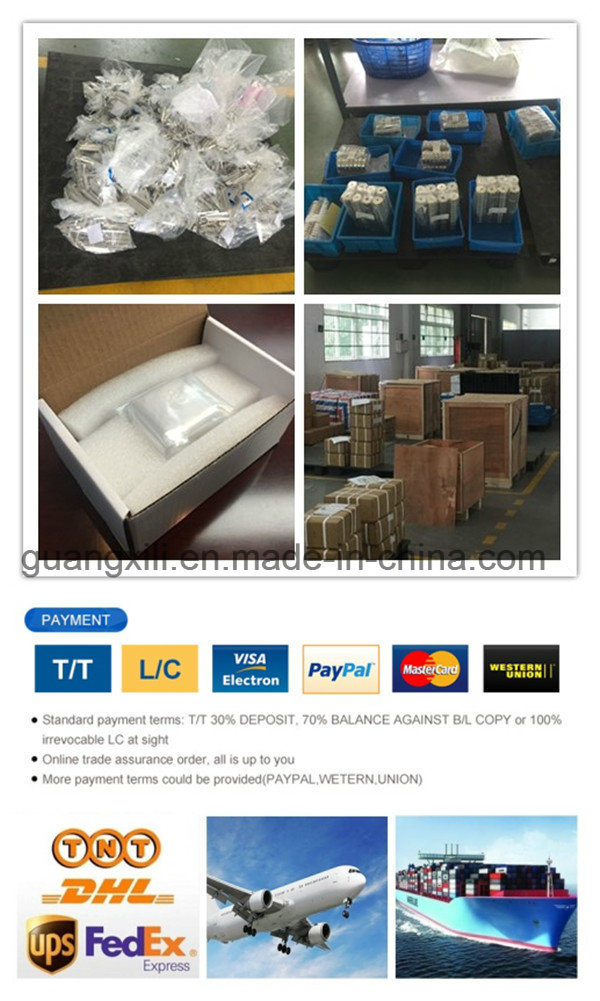 8.About us

Our main products as follows: magnet related products, storage cage, expansible aluminum gates, OEM and sample processing business also is acceptable. We try our best to create the characteristic product for clients.

In future, we will always offer excellent product and service with more advanced concept and sincere attitude.

 

FAQ1. Q: What information do IÂ need to supply when IÂ have an inquiry?

A: If you have any inquiry, please kindly advise the following items:

Dimensions, sizes, shape and drawing with tolerances.

Material grade or magnetic properties.

Magnetic direction, quantity. Surface coating (if necessary). 

 

2:Q: How about the quality of the magnets?

A:We can offer the certification of ISO14001,OHSAS18001.Our factory participate in the sub-project of the nations's 863 research project High performance sintered NdFeB magnets's production and application.

 

3. Q: What about the sample time and charge?

  A: (1) 7-10 days if you want to customize your logo, charge according to your design

       (2)  3-7 days for our existing samples for reference 

 

4.  Q: What about the delivery time of our products?

A: 10-15days.

Fast Delivery  when you choose the item and decide your design, we can produce it as fast 

as possible, and deliver it as quick and convenient as possible.

 

5. Q: Could you provide me the shortest lead time?

A: We have materials in our stock,if you really need, you can tell us and we will try our best to 

satisfy you.

 

6. Q: What is your MOQ?

A: 1-10-100-500-1000-5000-10000-200000 pcs etc. depend different size ,item, design and process.

 MIN and SMALL quantity accept accordingly.

 

7.  Q: How to pay you?

A: T/T in advance(telegraphic transfer-bank order), for small order, or samples order, or shipment by air.

Western Union cash -Â for small order or samples order.

Other payment: L/C,D/A,D/P,MoneyGra,Paypal or Escrow.

Different areas may exist some differences.

 

8.  Q: Could I pay a visit to your factory?

A: Yes, of course, if you need, we will help you visit our cooperative factory, everything will be well arranged.

 9. Q: What about OEM and ODM?

 A: OEM and ODM Accept. We have our best designers, we can produce any design you wanted to meet your needs.

 

10. Q: If IÂ have more questions, where can IÂ get the answer?

A: Any issue, please feel free to contact us any time.

Qingdao GuangXiLi Industrial Products Co., Ltd
Sophia Xiao
Tel : +86-532-85196797
Fax : +86-532-85196798
Mobile:+86-15288963052